A gents Gallet MultiChron Regulator wrist watch in stainless steel.  Gallet also happens to be the worlds oldest watchmaker, tracing its roots back to 1466.  A Multichron in regulator configuration like the one seen here was famously worn by Colonel Don Blakeslee, one of the top American aces during World War 2.
THE MAN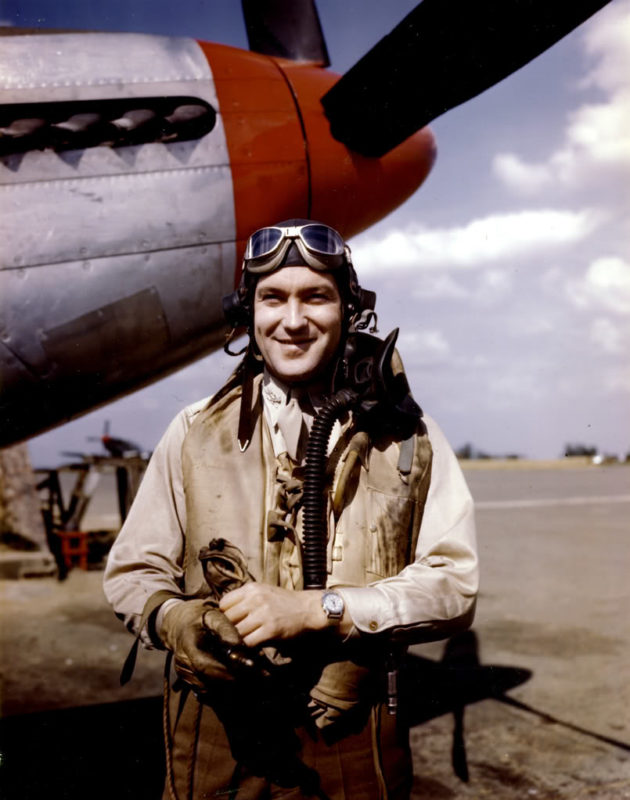 Donald Blakeslee was born in Fairport Harbor, Ohio, a small lakeside town on the outskirts of Cleveland in 1917.  Watching the Cleveland Air Races as a kid sparked a dream of flying in young Don.  In 1939 he and a friend pooled their money and bought their first airplane.  A year later in 1940 his friend died tragically when he crashed the plane in a field.  That year Don left Ohio to enlist in the Royal Canadian Air Force.  He was commissioned on the 17th of March 1941 and on the 4th of April was transferred to the Royal Air Force overseas, first piloting the British Supermarine Spitfire then the North American P-51 Mustang with the Eighth USAAF.  Blakeslee flew more combat missions against the German Luftwaffe than any other American pilot during World War II with an official record of 14.5 / 3 / 11.  He was known to have passed "kills" to new pilots on occasion, making it likely his score was somewhat higher.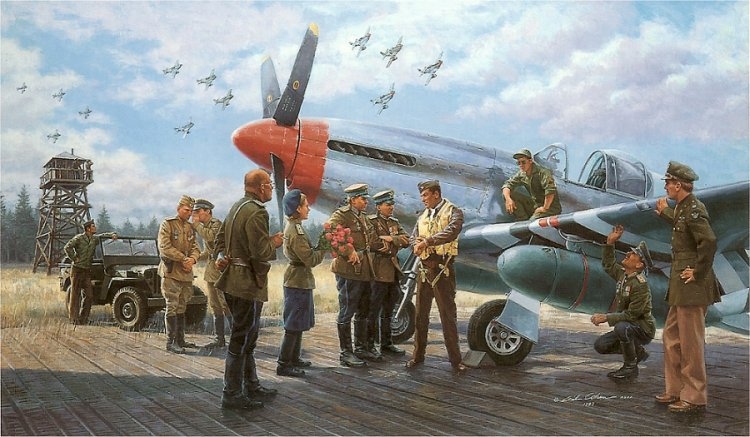 A painting by Gil Cohen entitled "The Mighty Eighth – Russian Shuttle" was the only artistic work officially approved by Col Blakeslee.  It depicts his arrival in Ukraine after navigating the 4th Fighter Group across Germany and Eastern Europe using only a map on his knee and his Gallet wrist watch.  Blakeslee is seen pointing to his wrist watch, indicating his to-the-minute arrival after the arduous seven and a half hour journey across hostile Europe.
On his passing in 2008, the Guardian wrote and obituary detailing the exploits and heroism of the no nonsense American ace.
http://www.telegraph.co.uk/news/obituaries/3088505/Colonel-Don-Blakeslee.html
THE WATCH
An all original gents Gallet MultiChron Regulator "Don Blakeslee" produced between 1935-1945.  Near perfect 34mm stainless steel case excluding the original knurled crown.  This watch saw very little if any use. The case is full, thick and unpolished, with a brushed body and high polished bezel.
Original two-tone silver dial is factory finished and has developed a light, even patina as seen in the photos.  Sub dials finished with concentric circles.  2nd execution with rare blue snail tachymeter scale.  Top sub dial with black printed arabic indices marking the hours with railroad minute track.  30 minute counter at 6.  Chronograph function marked by black printed arabic indices ever 5 minutes with outer railroad minute track.   Original blued steel hour, minute, chronograph and counter hands.
Equipped with the original 15 jewel Venus 140 movement decorated with Geneve stripes.  Clean, running well and keeping excellent time with all functions operational.
This Gallet MultiChron Regulator "Don Blakeslee" comes on a modern 18mm leather strap with steel buckle.
| | |
| --- | --- |
| BRAND | GALLET |
| MODEL | MULTICHRON REGULATOR "DON BLAKESLEE" |
| MOVEMENT | VENUS 140 |
| CASE SIZE | 34MM EXCLUDING ORIGINAL CROWN |
| CASE MATERIAL | STAINLESS STEEL |
| CRYSTAL | PLEXI |
| FUNCTIONS | HOURS, MINUTES, CHRONOGRAPH, TACHYMETER |
| FEATURES | REFERENCE WORN BY FAMOUS WWII FIGHTER ACE DON BLAKESLEE |
*Due to the sensitive nature of vintage watches, this watch should be treated as though not water resistant, even if marked as being so.
BUY WITH CONFIDENCE
Each Stetz & Co. timepiece includes a 7 day inspection period during which the watch can be returned for any reason.  In addition all watches include a 30 day warranty.
| | |
| --- | --- |
| BRAND | GALLET |
| MODEL | MULTICHRON REGULATOR "DON BLAKESLEE" |
| MOVEMENT | VENUS 140 |
| CASE SIZE | 34MM EXCLUDING ORIGINAL CROWN |
| CASE MATERIAL | STAINLESS STEEL |
| CRYSTAL | PLEXI |
| FUNCTIONS | HOURS, MINUTES, CHRONOGRAPH, TACHYMETER |
| FEATURES | REFERENCE WORN BY FAMOUS WWII FIGHTER ACE DON BLAKESLEE |
---