The development and commercialization of the SCUBA system in the 1930's and subsequent rise in popularity of recreational diving brought to life a new breed of watch designed for the rigors of underwater exploration – the dive watch.  Introduced in the late 1950's, the Omega Seamaster 300 quickly carved out a place among dive watch icons like Blancpain's Fifty Fathoms and Rolex's Submariner.  You could catch it on the wrist of Joe Biden, Prince William, Tom Hanks and Jeremy Clarkson.  Today the Seamaster remains Omegas oldest series still in production.
I'd like to dedicate some time to discuss the 165.024 Seamaster 300 in depth, what to look for when planning a purchase and examine it's impression in the flesh, but first let's familiarize ourselves with its heritage.
ORIGINS
The year was 1948.  Industry in postwar Europe was still shifting gears to peacetime with military innovations being repurposed for use in the civilian market.  One such technology was the water resistant wrist watch.  Up until it was redesigned for combat use, a watch was considered a sensitive instrument requiring careful treatment.  Taking note of the great success of water resistant watches supplied to the British MoD during World War II, Omega marked the centennial of their founding in 1848 with a robust, water resistant watch for the "town, sea and country".  This first iteration of the Seamaster had a fixed bezel, low contrast dial, small lume plackets (if any) and small, elegant hands.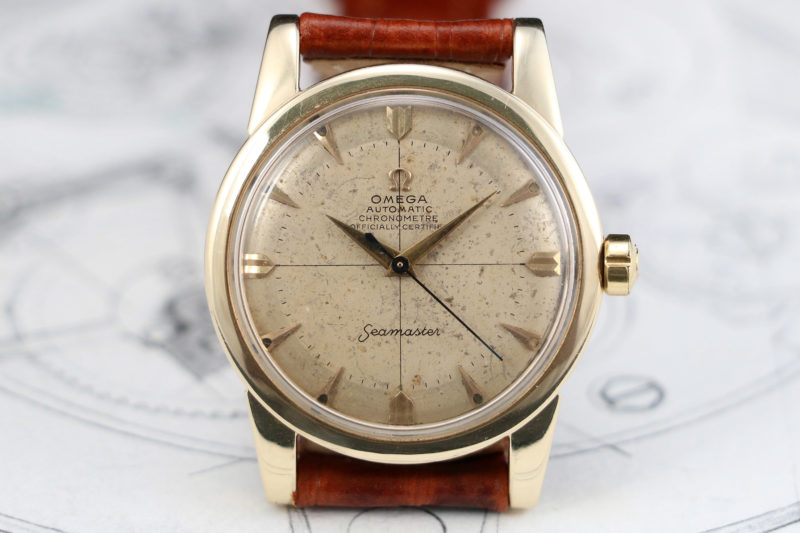 The Seamaster 300 CK 2913, the first true dive watch of the line hit the market in 1957, part of the famed "holy trinity" of new professional grade watches along side the CK 2914 Railmaster and CK 2915 Speedmaster.  These were precision grade, highly engineered instruments for applications requiring accurate and reliable timekeeping.
The 2913 of 1957 featured a two part bezel with a thin, outer portion in bakelite displaying numerals used for diving.  It was equipped with arrow hands and an auto winding caliber 500/501.  Watches equipped with the lower jewel count caliber 500 were, because of duty restrictions, intended for export specifically to the US.  Eight different versions can be traced, some using a thin dauphine minute hand and short arrow hand and others vice versa.  Later versions are also found with a lollipop seconds hand.
Production of the 2913 continued until 1960 when it was replaced with the 14755.  This watch also featured arrow hands but was now equipped with the caliber 550/552, also automatic.
In 1962 the 14755 gave way to the 165.014 marking the first use of the 6 digit case number system.  The 165.014 still housed a caliber 552 and had much the same look as previous iterations but now sported a few different hand and dial combinations.
1962 also marked the introduction of the second generation of SM300, the 165.024 and 165.025 date.  The case size was now 42mm, up from 38mm and the straight lugs were now turned.  The 165.024 continued to utilize the caliber 550/552 combination, with the 165.025 housing either the 563 or 565.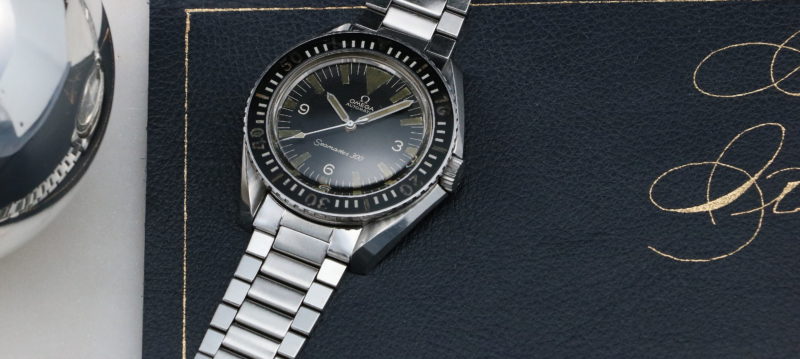 Cases were made by two primary manufacturers, Huguenin Freres (HF) and Centrale Boites (CB, seen here) and can be determined by the presence of small HF or CB stamps inside the case back.  Some later cases can be found bearing Piquerez markings.
Three different types of hands were used on the 2nd generation SM300 – sword and baton, with arrow hands being found on early transitional models.  A sword hour hand is ID'd by its diamond shape.
A low profile Naiad non screw down crown was used until sometime in 1968 when it was replaced by a 5mm deep screw down crown.  This came about as a requirement for any watch bound for British MoD service, and by the end of the 60's had made its way onto all SM 300's.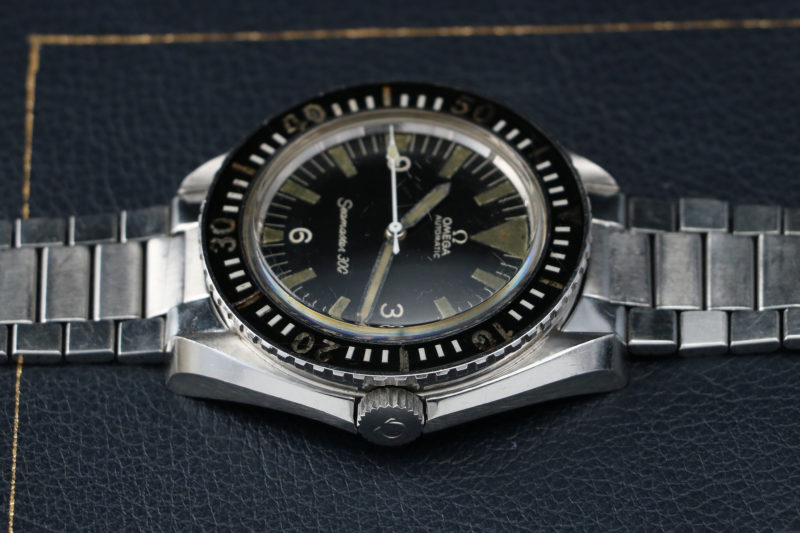 The watch can be found with two distinct dial variations.  The first and more common of the two had standard squared off lume plackets of equal size at 3, 6, 9 and 12 o'clock each with a corresponding white arabic numeral.  The second variety replaced the 12 o'clock numeral and lume placket with an oversized inverted lume triangle.  Dials of this kind were initially designed for use exclusively on watches commissioned for issue to Britain's Ministry of Defense.  An authentic, original MoD issued SM300 will have fixed lug bars to be worn with a standard issue NATO strap, "T" printed on the dial indicating tritium lume, and issue markings on the case back.  Values of original mil-watches have risen sharply in recent years giving rise to a surge in fakes and frankens.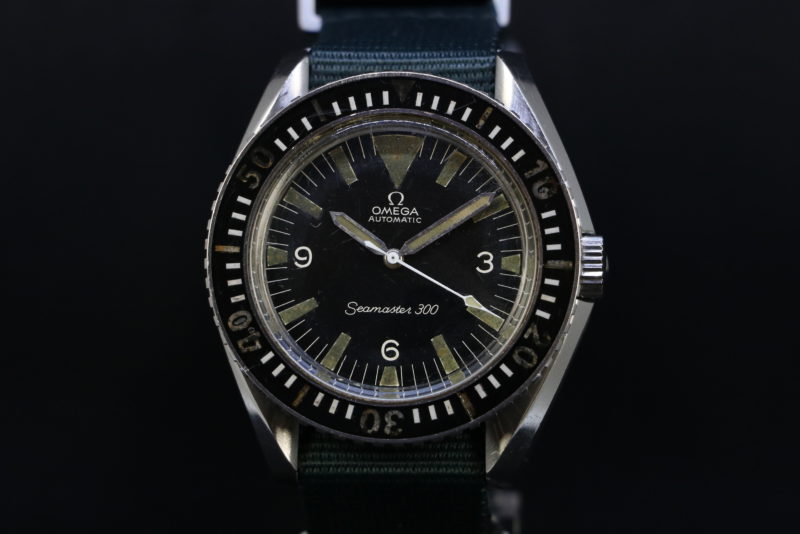 The watch seen in the photos is a  "Big Triangle" variation of the 165.024 produced for the civilian market, identical in all respects to the MoD version save for the fixed lug bars and military markings.
Several different bracelets were used during production.  The 1506 bracelet was used between '64-'66 with 16 end links, the 1035 from '66-'72 with 516 links and the 1039 from '68-'71 with 516 links.
IMPRESSIONS IN THE FLESH
As vintage enthusiasts many of us have become accustomed to the size compromise.  And while some feel size doesn't matter, relying solely on the "motion of the ocean" isn't a concern here.  At 42mm it's larger than most watches of the period but not uncharacteristically large in the diving watch category.  As a professional dive watch with an automatic movement, it's not too chunky or overbearing and wears pleasantly modern.
It's unpretentious and it's beautiful.  It's an unapologetic subtlety that comes organically through a function first design   It feels smaller on the wrist than it's 40mm rival the Submariner, something I found surprising.  I believe this is due to the flowing curves of the turned lugs.  When viewing the watch from above the eyes aren't confronted by a single flat case surface, and are free to naturally trace along the bevels.
The dial symmetry and scarcity of the non date version has led to increased demand, with Big Triangle versions striking highest.  Bonham's November 21st Wristwatches auction saw a Big Triangle 165.024 SM 300 on its original bracelet hammer down at $20,200 US.  Large, highly visible lume plackets lay out the time with Omegas signature arabic numerals at 3, 6 and 9 o'clock.  A clean and functional dial is achieved with the use of silver baton hands with large lume plackets..  The bezel with bakelite insert can be depressed to rotate bi-directionally and locks in place when released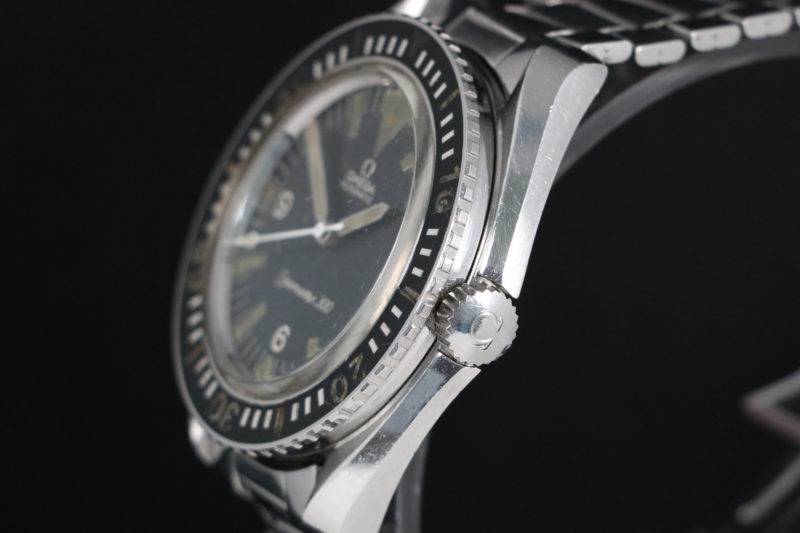 The Naiad type crown has a low profile helping it maintain a sleek overall case design.  It's a rare treat to find a watch with its original date matched bracelet and harder still to find one in good condition.  Through the course of a watches life bracelets are swapped for straps, forgotten and eventually lost to time.  Fortunately the original and correct date matched 1039 bracelet and 516 end links are present on this example and we can get a good feel for the aesthetics of the entire watch as it was meant to be worn.  Word has it that the 1039 bracelet didn't hold up well over time and it is noticeably less substantially built than the watch itself, although the simple style is hard to beat.
BEFORE YOU BUY
Fun Fact: If it's popular and valuable it will be faked.  Such is the case here.  Care, research and a sharp eye are required to avoid the newbie tax.  When looking to buy there are several touch points to consider.  As a hint, a 10x jewelers loupe is essential when examining a dial or movement.
Dial – The proper fonts have a slight serif and the loops of the 6 and 9 are open.  Edges should be clean well defined.  Beware of minute markers protruding from underneath the hour marker lume.  This is a sure sign of a fake or refinished dial.  Date versions should have a small white frame around the window.  When examining the 12 and 6 lume markers through a loupe look for a small pinpoint hole in each centered horizontally, the presence of which indicate the original application of luminous compound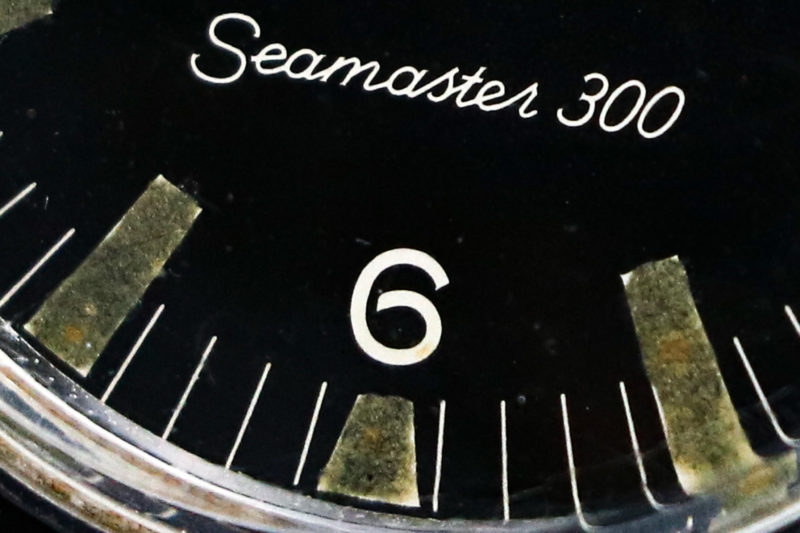 Case – When examining the lettering on the case back ensure the 'A' in 'WATERPROOF' has a wide, flat top and not a pointy one.  Also be sure to check the spelling on 'CERTIFIED'.  Ensure the markings inside the case back are stamped and not etched.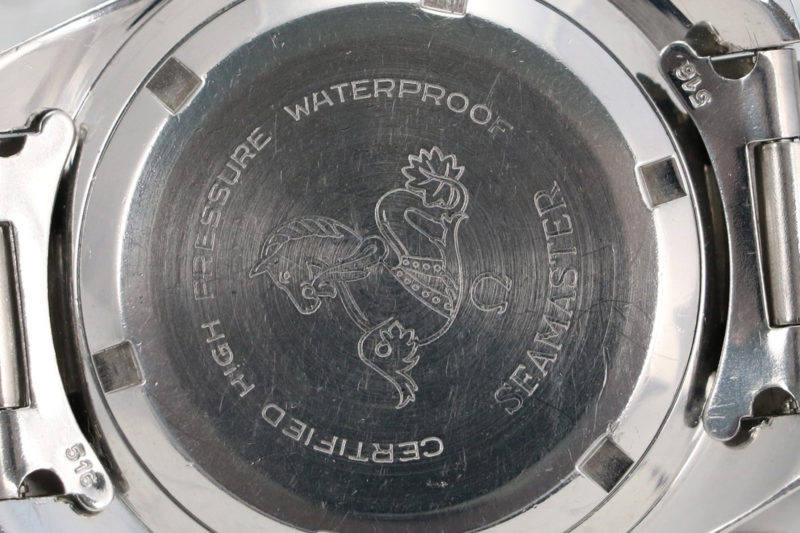 If you're a fan of Omega or vintage dive watches there's likely a SM 300 nestled snugly in your watch box and it's easy to see why.  The second generation SM 300 is a beautifully designed professional grade watch in a contemporary size at an accessible price point.  It's true that it's sibling the Speedmaster steals most of the limelight with its lunar heritage and recent record breaking sales, but that isn't always what it's about.  It's about respecting and appreciating an object for exactly what it is.  In this case a tough, rugged, damn nice watch.
You can see more of our 1968 Seamaster 300 165024 Big Triangle here in our shop.